VIVALDI is an established ladies' boutique in central Edinburgh, Scotland, selling a range of exclusive UK and European clothing and accessory brands. We began working with VIVALDI over 5 years ago and designed and developed their previous ecommerce offering.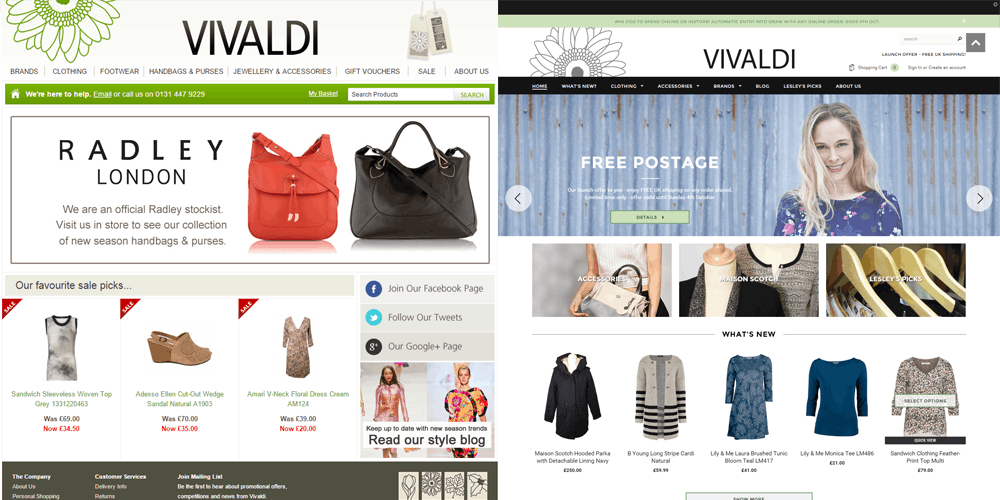 The internet in general has evolved dramatically in those 5 years and the online shopping habits of the masses have evolved with it. The website had served its purpose, but it was time to transfer it to a responsive, more manageable, platform. We were delighted to help VIVALDI achieve a new online look for Autumn/Winter 15.
On The Face Of It
The site was developed on Shopify using "Ella"- a fully responsive theme designed specifically for fashion apparel that fitted the bill perfectly. VIVALDI have some very talented in-house creative resources so the flexibility of this theme allows their creative flare to shine. The large banner format on the home page provides the perfect canvas for VIVALDI's latest style trends, products and offers to be beautifully showcased.
Banners and information blocks have a strong visual impact and allow site visitors to find the information they want quickly and easily
Mega-menus and advanced filter options add to the exceptional user experience
A drop-down shopping cart removes distractions and encourages site visitors to buy more than one product increasing the average order value
Customers can sign-up for an account, making future purchases even more straightforward, as well as taking advantage of VIVALDI's account benefits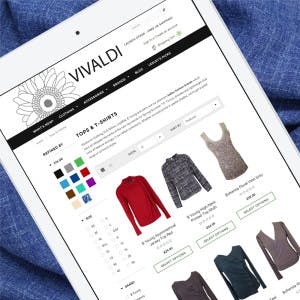 Behind The Scenes
VIVALDI's previous ecommerce platform had a number of restrictions where the management of products and other content was concerned. Shopify provides a highly flexible management system that allows VIVALDI to easily manage its dynamic inventory quickly and easily.
The exclusive nature of the products stocked by VIVALDI means that often items are one-offs; new season items replenish stock on a constant basis. Having a system that is easy to update and manage is essential for any ecommerce retailer.
The newly developed site also includes a fully integrated blog function so VIVALDI's audience can keep up to date with all of the latest news and events. This, coupled with fully integrated social share function and product reviews all adds to the site's authority; organically and socially.
Offers and other messaging are also key to establishing and maintaining relationships with site visitors. The theme provides several different messaging opportunities and these are applied in a way that enhances the shopping experience rather than distracting from it.
End Result
User experience has been dramatically improved whilst the theme compliments VIVALDI's products, branding and personality exceptionally well. VIVALDI now have their new "Shopify" wardrobe for A/W15 and if you also want to update your website, get in touch. Or, if you want to update your wardrobe, visit vivaldiaccessories.com and treat yourself (or significant other) to something from the beautiful new collections they have in stock.