Now that the Christmas holidays are over and January sales are finishing, the next big opportunity for retailers to maximise sales is Valentine's Day. More than half of adults plan to celebrate, with around 28% choosing to purchase their romantic gifts online. We've rounded up some of the most effective ways to help shoppers feel the love for your brand in the lead up to Valentine's day.
Category Pages
A good starting point to prepare for Valentine's day shopping is to decide which products from your itinerary would make great gifts. Also think about products that shoppers may want to purchase for a date night such as candles and wine. Depending on the variety of gifts, you can create different category pages such as "For Him", "For Her" or "Gifts Under £20". By making it quick and easy to research gift ideas, visitors are more likely to make a purchase.
Delivery Dates
Many people don't shop for Valentine's presents until a few days prior to the 14th February, so it's important that timescales for delivery are transparent. Back up your Valentine's delivery order deadlines with mediums such as social media and email to let your customers know, in plenty of time, their last opportunity to place an order that will arrive in time …you don't want to be instrumental in breaking any hearts on the day!
You might want to consider a next day delivery option, providing you have the logistics in place to allow this. A next day delivery option can help maximise profits as 1 in 10 shoppers leave shopping for Valentine's gifts as late as the day before.
PPC Campaign
Valentine's PPC campaigns only need to run for a short period of time. As you can see below, the majority of shoppers search for gifts within the last two weeks leading up to Valentine's Day. Recent data also indicates that online traffic peaks during the final week ahead of the 14th. You will get you the most clicks for your money during this period if you're paying per impression.
Make sure you do your research before deciding on your ad copy. Look into data from last year's Valentine's campaigns and find out which keywords perform well for the type of product you're wanting to promote. Bing have put together several heatmaps that reveal the performance of different keywords used for various products from jewellery to tech. These are well worth looking at before you start bidding on keywords.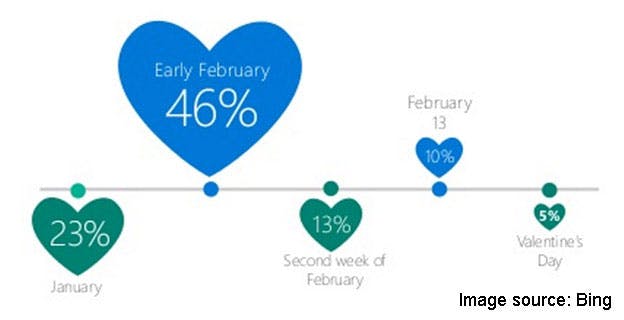 Promotions
Free gift wrapping is a great incentive for shoppers to make a purchase. It can make their Valentine's gifts look extra impressive, as well as saving them time and money. Another effective way to compete with other online retailers is by offering free shipping on Valentine's gifts. Make sure the offer is clearly visible on the Valentine's category pages as well as each product page.
If you are running a product-specific delivery promotion then make sure you have tested your website and that the free delivery option is included/activated when site visitors add these products to their basket and proceed to checkout.
Social media
It's a great opportunity to get creative on social media and promote your products in a fun way. Why not inspire your customers on Instagram or Pinterest by styling a series of date outfits, or a collection of gifts for under £20? It's also a great time to run giveaways, which can help increase brand exposure and boost social media following. 'Retweet and follow to win' competitions are a simple and effective type of competition. Alternatively, you could run a competition where entrants engage in a more fun and interesting way such as asking describing their dream date. Before setting up a giveaway, take a look at Twitter's competition guidelines and adhere to Twitter's rules.
Email campaigns
If you're sending out Valentines gift guide emails, make sure they're well targeted. Keep in mind that men spend more than women for this occasion, with the highest spend coming from men aged 25-34. You could even target those who have viewed a Valentine's category page on your website if your company has set up site tracking for your email campaigns. Make sure you include bold call-to-action buttons and let subscribers know the last day to place an order to guarantee delivery by the 14th.
References
All statistics included have come from a recent Bing article. Take a look at more of their insights here
See Twitter's guidelines for competitions here