ScotExport, held at The Technology and Innovation Centre, the University of Strathclyde on November 6th is the flagship exporting event for Scottish businesses, organised by Scottish Enterprise. The event enables organisations to hear from experienced exporters and experts on partnering opportunities, market research, maximising digital opportunities and more. The sessions are designed to take organisations one step closer to achieving their international business ambitions. The event encompasses a three-part program stream:
'Get Set' aimed at start-ups or first-time exporters
'Connect' aimed as an opportunity for all delegates to network and gain connections for their exporting strategy
'Go Global' for those experienced in export but looking to broaden their market and gain further knowledge.
As the majority of Digital Six's clients are already exporting, we attended the 'Go Global' stream. We've detailed a snapshot of the sessions we attended and the key takeaways from each.
Morning Plenary – Open
Minister for Trade, Investment and Innovation
Ivan opened with a warm welcome to an audience of over 400 export enthused delegates. We learnt that although the UK average for exports is 8%, Scottish organisations export efforts come in at 12% – the highest export offering for the UK. To build on this effort, the Scottish Government had recently committed to an investment of £20 Million into Scottish Export over the next three years.
Key Takeaways:
Scottish Government are invested in export culture and supporting Scottish organisations financially, allowing for growth of the Scottish Economy
A tool will be made available for Scottish businesses on sector breakdown, so they know where to target their international trade efforts
Morning Plenary – Panel
Panel:
@Peak Scientific
@SnapDragon Monitoring Ltd
@Essence of Harris
@Sticky Heelz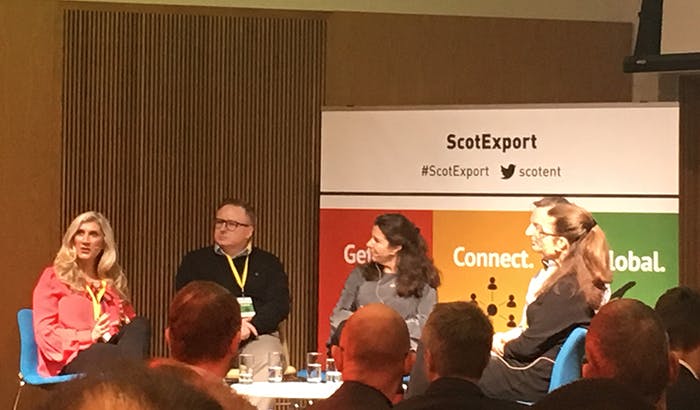 The panel opened with everyone detailing their background and their journey with export to date. Jamie McGowan discussed how he learnt early on that his brand had to change as no one south of Inverness could pronounce his company name, fast forward to the rebrand 'Essence of Harris', Jamie has been able to open several retail offerings and continues to trade internationally. He now partners with international social influencers in Germany to create the international awareness his brand needs and is looking to expand digitally as well, to drive further international traffic to his brand. Laura Birrell highlighted the benefit of attending international retail trade shows and how meeting key contacts at these in America allowed her to set up international distribution channel partners that gained her credibility with her retail offering internationally. Mary Kernohan chimed in with her input on how in the digital market it's imperative that brands protect their IP.
Key Takeaways:
Set up partnerships with distribution channels internationally to give your brand credibility whilst pitching your retail offering into new markets
Don't underestimate the importance of Online Shopping and advertising on Social
Protect your IP – Trademark your logo, strapline and design rights as this is often a lot quicker than awaiting confirmation on your patent which can take years
Both Essence of Harris and Sticky Heelz advocate for partnering with SDI as they can help you build your Export Strategy
Highlands and Islands offer grants and free support to those wishing to grow their business or innovate in a new market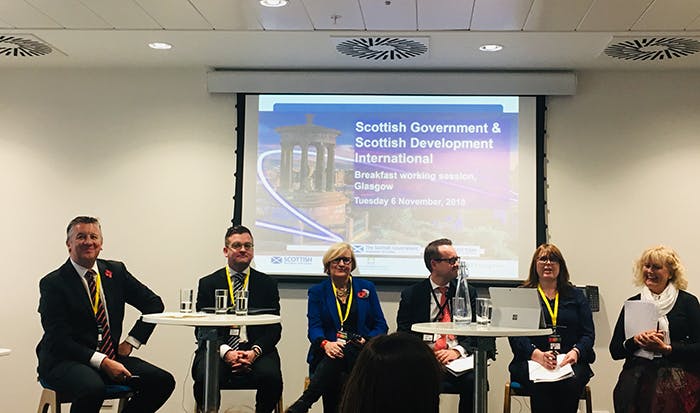 Getting prepared for Brexit: acceding EU and global opportunities
Panel:
@SDI
@The Weir Group
Lesley Batchelor – Director General @The Institute of Export & International Trade
Jackie Thomas and Jane Sewell  @HMRC
Jamie Kerr – Specialist Immigration Law Partner
Lesley Batchelor began the panel by disclosing that in a recent survey, 67% of Scottish companies were not prepared/preparing for Brexit. The advice was to not wait and to begin documenting what you're importing and exporting if you haven't already. Lesley also highlighted that the impact on service-based businesses was significantly less; the Government hadn't planned for this in the way they had for those with physical goods. If you're a service entity, all you'll need for the meantime is your VAT number and documentation of services. Another topic for the panel was staffing, particularly those whom where EU Nationals. The panel advised, where possible you help your staff obtain British Nationality and that all EU Nationals will have to register their status in the UK.
Key Takeaways:
Begin preparations now with import/export documentation
Obtain any classifications for goods, duty suspensions and request your MSS Data from HMRC
Prep for Brexit by including all workstreams in the conversations regulation, legal, supply chain etc.
Consider gaining "Authorised Economic Operator" status as this is an internationally recognised quality mark indicating that your role in the international supply chain is secure and that your customs controls and procedures are efficient and compliant. This can sometimes allow for goods to travel up to x5 faster than those who do not have this status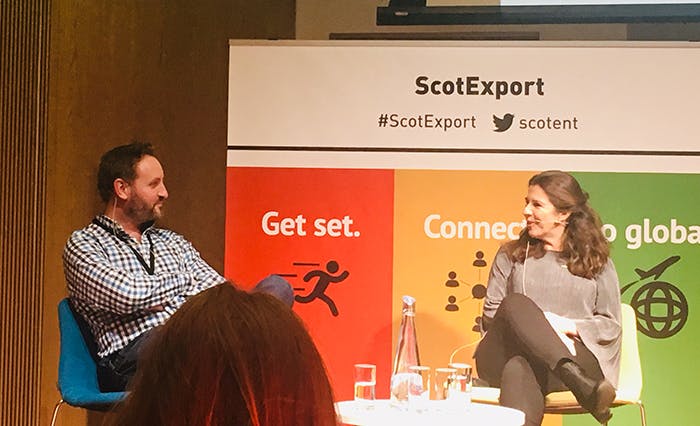 Since creation in 2003, Innis & Gunn have been brewing up an innovative range of flavour packed beers. Although they only trade in Scotland, Innis & Gunn is now the number 1 Lager SKU in the UK. In late 2016, to help grow the company, Innis & Gunn attempted to raise £1m through crowdfunding, the target was surpassed in just 72 hours and went on to raise £2.5m. They have now expanded internationally and supply Canada and Sweden, to name a few. Dougal attributes a large amount of the brand's international success to their personal touch and relationship building. To break into the Canadian market, Dougal would visit buyers in his rugby shirt and kilt, and take them on the journey of Innis & Gunn first hand.
Key Takeaways:
Don't underestimate relationship building in new territories to gain market share
Get your strategy right in the UK Market first before entering other territories
Establish partnerships with business partners on the ground, who know the culture and customer base
Overall, the event provided masses of insight for businesses new and experienced to export and we look forward to ScotExport 2019. It was also emphasised at ScotExport the benefit that brands would have by implementing an online shop to aid their international export efforts. If you're interested in finding out how one of our Shopify or Magento builds can aid your international trade efforts then get in touch with us to begin your international ecommerce journey.