"It's beginning to look a lot like Christm…" OK, it's not but it is literally round the corner. Retailers throughout the country are busy organising stock, making sure logistics are in place for order fulfillment, even considering their social campaigns to drive engagement. But what about their products? Being prepared for those earlybird festive shoppers, Black Friday and Cyber Monday orders, and those who leave everything to the last minute, will help towards maximising profits in this short window of opportunity.
Making sure your products stand out from the masses boils down to some fairly basic, but often underestimated, points. Focusing efforts on things that will bring about the biggest return isn't always about throwing money at your Google Shopping budget. It's often about crossing the Ts and dotting the Is to make sure your products are showcased in the best possible light to those who are willing (and able) to buy them.
The festive season is, broadly speaking, the biggest driver of revenue for the vast majority of ecommerce retailers in the UK. A sweeping generalisation, I know but one that is difficult to avoid. Mistakes at this time of year can be costly in terms of lost revenue so take some time and look at your website, your products and the traffic data generated.
Finding out where you are in the grand scheme of product optimisation by carrying out an audit is the first place to start. Look at your site traffic, user type and behaviour, keywords and search terms, and see what your direct competitors are doing. Once you know where you are, it's easier to plan a route to where you want to be.
Getting things right from the start can save a huge amount of time going forward but nothing is a lost cause; there is still time to make adjustments and make those products shine!
Product Descriptions & Metadata
These are grouped together because they are the first things humans searching for a product encounter; metadata is displayed in search results and the product descriptions speak for themselves. The importance of both shouldn't be underestimated.
Metadata can be tricky where products are concerned, especially if you have a large volume of SKUs and/or use a rule based system to populate the meta title and meta description fields. Tweak these wherever possible, or tweak the rule, to make sure your metadata is easy to read, concise and contains at least one of your targeted keywords.
Getting product pages to achieve organic visibility when search results are dominated by large brands and articles offering advice and information is difficult. Google however is not the only search engine; any platform offering a search function could (in theory) be considered a search engine, Facebook, Twitter, Pinterest et al. Making sure elements of your products are optimised for sharing will help highlight your products throughout the social search sphere.
Descriptions for products, especially for brands, can be very prescriptive when issued by the manufacturer to all distributors/retailers of the product – make yours different. Inject some of your brand/business' personality, have some fun, compel the site visitor to purchase through use of meaningful and engaging content.
This element is also key if you run Google Shopping ads, your product description has to stand out amongst your competitors so make sure it is as meaningful and appealing to a buyer as possible. Stay a step ahead of your competitors and stand out with your product descriptions.

The first listing tells us immediately that the dress has a cut-out feature on the back (not visible in the image), it tells us the style and its features, as well as the fact the garment is Dry Clean Only. This information is much more meaningful than the listing underneath, and an important factor when purchasing online.
Image source: Google Shopping Search
Images
Are your product images up to scratch? If you have the luxury of in-house resources and/or a relatively small volume of SKUs, tidying up and adding to the images on your website is something to definitely consider. A dress on a ghost dummy AND an image of the dress being worn by a human is far more appealing than just an image of a dress on a ghost dummy. Give the visitor some context and they will engage further.
Changing every single product image on your site is by no means a quick fix (or entirely practical at this or any time of year!) but you can still optimise them. Search engines can't "see" images so make sure they have title and alt-tags associated with them at a minimum.
Site Search
You've managed to attract a visitor to your site but can they find the product they are looking for when they get there? Navigation is key but so is your site search function. If a simple search carried out by a user doesn't bring about expected results, the potential of the visitor going elsewhere increases due to the frustration of not being able to find what they are looking for.
Check the search terms used by visitors on your site and see what is being entered, and what results are generated. If you haven't already, activate and configure "site search" in Google Analytics to gather data on searches carried out on your site. Ecommerce platforms such as Magento offer this feature as standard and information can be gathered from the admin dashboard. Other platforms such as Shopify offer this feature but only on up-graded plans.
If the results are as expected then great but if there are search terms being used regularly and not generating expected results, then look at what triggers are missing. Is it also worth considering looking at your navigation to make a particular product easier to find?
Reviews
Reviews, reviews, reviews….there is no escaping the fact that consumers, both on and offline are on a constant quest for reassurance throughout the purchasing process. The majority of ecommerce platforms have this function so make sure you are encouraging your customers to provide you with feedback; star ratings help your listing stand out from the crowd in organic search results. The image below highlights product review ratings being displayed organically.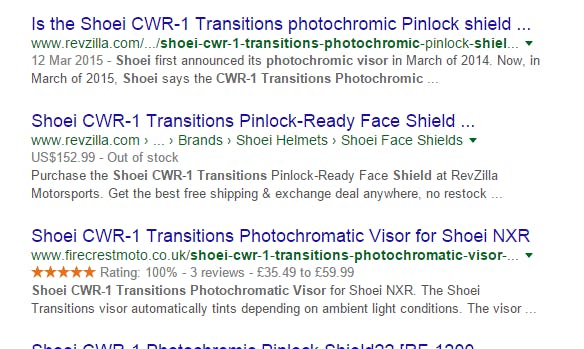 Image Source: Google Web Search
Consumers are bombarded with this type of request on a daily basis so it can be difficult to cut through the noise, but it's worth bearing in mind that there are other ways of getting customers to put their stamp of approval on your products. Add social share buttons to your product pages and encourage sharing – consumers might be more comfortable with sharing something on Facebook rather than writing a review.
Mobile
Have you considered what your products look like on an Android phone vs and iPad? Having a mobile friendly site doesn't always mean mobile friendly product pages. Makes sure you check your lovingly created product descriptions aren't too long that a mobile visitor is forced to scroll forevermore to get to the buy button.
Unfortunately, unless your products are optimised for mobile devices, they won't look the same and the user experience will be anything but positive. Placing barriers in the way of a sale is a sure-fire way to lose it….if you had the sale in the first place, you were riding on luck and the saint-like patience of your site visitor continuing with the transaction.
Perfectly Presentable Products
Spending some time going through your products and making sure they work as hard as they possibly can to entice sales can have a significant impact on the activity surrounding them. If the thought of this task fills you with dread due to its enormity, prioritise the products either by profit margin or stock levels. Making changes to your products will help them stand out and generate sales over the festive period and beyond.