There's no getting away from the fact that consumers have high expectations of their online shopping experience. If a website doesn't meet their expectations, they can easily shop from a competitor's site to make their purchase. Payment can often be the differentiator so retailers must develop a sound payment strategy to enable growth. We've put together four payment strategies that can help encourage shoppers to purchase from your website.
Streamline The Checkout Process
According to a study by Ovum and Klarna, 52% of 100 UK retailers questioned claimed that friction in the online checkout is the most common reason for shoppers abandoning their shopping carts. Online retailers should therefore ensure that the checkout process runs as smoothly as possible. Visual distractions and unnecessary links can disrupt the user's journey and may stop them from completing the order. Also keep in mind that the more steps there are to complete an order, the more shoppers are likely to abandon their cart. Ideally, the checkout process should be no more than 4 steps. You can also improve user experience by including a progress bar so they can see the steps in advance.
A guest checkout option can help encourage new shoppers to complete their order, as they may not have the time or patience to create an account. You could always include a registration option once the order has been complete through the guest checkout. This can help speed up the checkout process for them in the future.
Consider Popular Local Payment Preferences
If your online store is targeted to multiple countries, it's important to understand the payment method preferences for each market. These can greatly differ from country to country. Here are some examples:
In China, credit cards only make up a small portion of online payments. WeChat, Alipay and UnionPay are used for the majority of payments.
Dutch consumers mostly use iDeal
Germans prefer to pay online via bank transfers
Researching the local payments of your international markets and accepting the most appropriate payments can make a big impact on your international conversions. After The Cambridge Satchel Company began supporting Chinese payment platform AliPay, the company's authorisation rates had increased by 15% and conversion at checkout by 5% within the first 3 months.

Offer Pricing & Payment Choices In Customer's Local Currency
Another way to improve international conversions is by displaying the pricing and payment options according to their location using GeoIP. Consumers are much more likely to trust a website that shows their local currency and it can make a big difference to their shopping experience.
GeoIP works by automatically detecting the user's IP address and redirecting them to the appropriate regional version of your store. This allows shoppers to view shipping rates and prices in their currency throughout their journey, and easily find their preferred payment method. Visitors to your site can therefore have an easy and enjoyable experience no matter which country they're shopping from.
Offer More Payment Options
It's evident that consumers have high expectations when it comes to paying online. Research carried out by Klarna found that 53% of shoppers said they were looking for new and easier ways to make online payments. They also found that 56% would spend more online if there were more varied payment options available.
Payment solutions such as PayPal Express and Braintree are a great way to help customers make payments with very little effort. PayPal Express gives your customers a quick and easy way to pay, and keeps them on your site or mobile app throughout the payment authorisation. BrainTree is a great all-in-one solution for small businesses to large enterprises. Once integrated with your site, you'll be able to accept online and mobile payments in over 130 currencies and more than 45 different countries. It accepts all major credit and debit cards, PayPal, Apple Pay and Android Pay and various other payment gateways.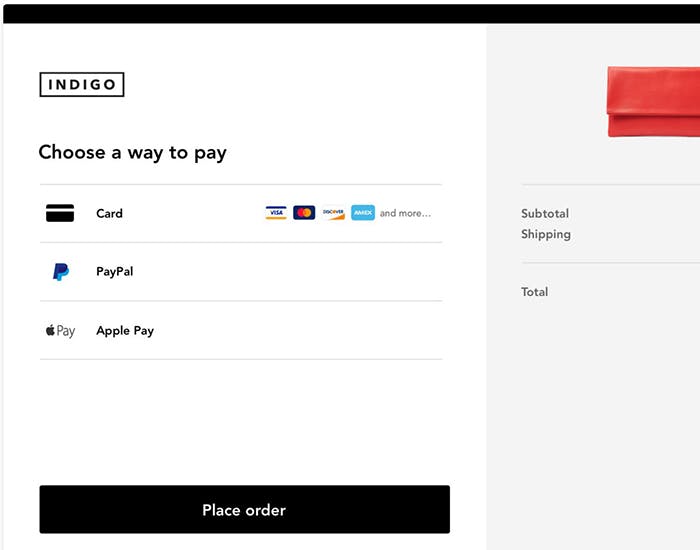 Image source: braintreepayments.com
One of the benefits of BrainTree is that it saves you time and money since your gateway and merchant accounts come from the same processor. It's easy to use, customisable, and most importantly, it's ultra-secure. Get in touch with BrainTree and they can tailor a solution for your company.
 
As you can see there are various ways you can improve the payment element of your site. Offering a variety of payment options and a smooth checkout process can help prevent shoppers from abandoning their purchases. If your site targets international shoppers, you'll need to consider the expectations of each market including their preferred payment methods. It's also crucial that they feel confident in purchasing from your site and displaying their local currency can certainly help with this.