Google announced earlier this year that Google Product Search (as it's called in the United States) and Google Merchant Centre (as it's called in the United Kingdom) will be re-named as Google Shopping. The biggest change will be the introduction of this new pay to display model, where merchants may pay to have their Google Shopping Products listed in Google's search results.  This is being trialled in the United States and it is expected to be introduced in the United Kingdom in 2013.
At the moment, UK ecommerce merchants can display their products for free in Google by adding a product data feed to their Google Merchant Account. This feed allows products to appear in Google Shopping and in Google search (as part of universal search). This is the free model currently offered by Google, which thousands of ecommerce merchants currently take advantage of.
Below is and example of how this looks in Google Search for the search term " buy tents".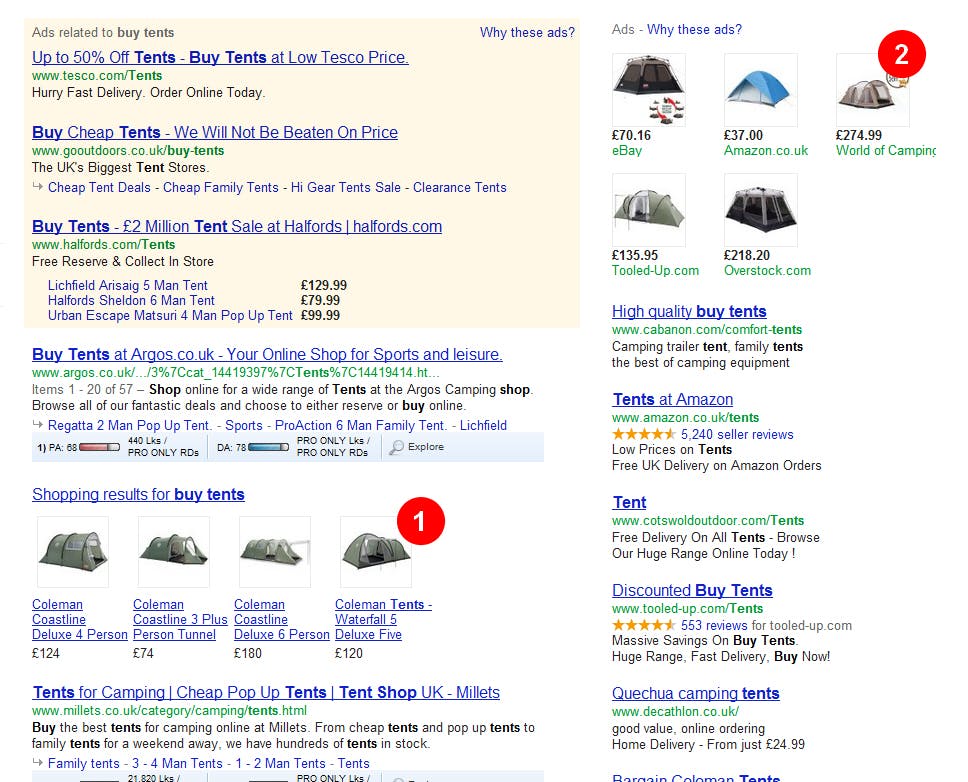 As the image above shows, the shopping results under number 1 are displayed in Google organic search and are taken from various merchant's product data feeds.  These results are currently ranked in Google free of charge.  These results are not to be confused by the images displayed under number 2.  These are Google AdWords product extensions / product listing ads. Merchants that currently advertise using Google AdWords can also link up their product data feeds within their Google Merchant Centre to their Google AdWords account by adding in a product extension / product listing ad to their AdWords campaigns. This will then link a merchant's products to their chosen Google Ad and display it like the example above.
This is more in line with what Google is planning for us in 2013 with the changes to Google Shopping.  If you want your images to continue to display in Google Shopping, Google search and AdWords, then you are going to have to pay for it.  We anticipate that the product extensions / product listing ads will disappear and be replaced with something like this:

In this example, the images are of telescopes and are positioned at the top of the organic search results, note the word sponsored in the top right.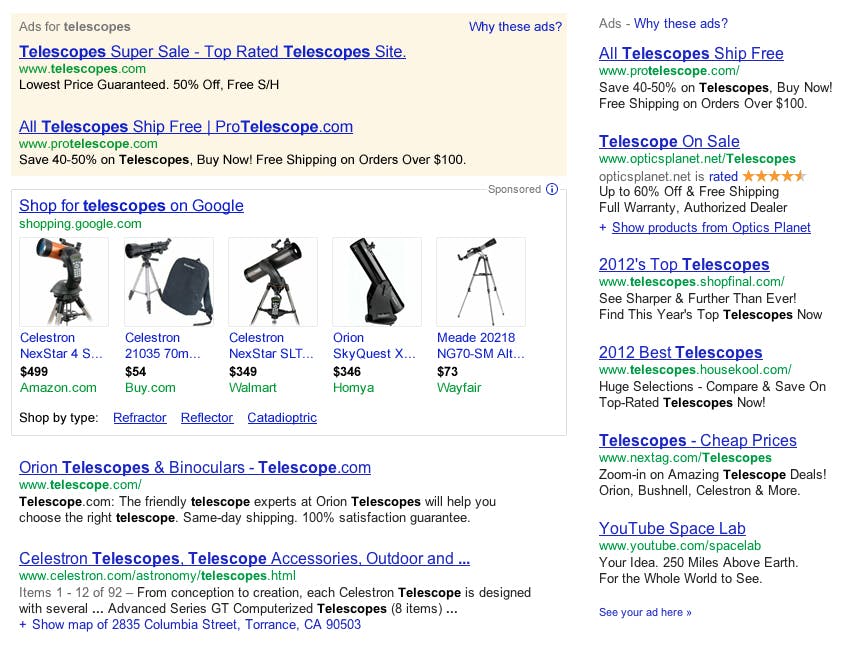 Additionally, if people are looking for a specific product, i.e. Celestron CPC 800 (image from Google, thanks), they might also see a new design that summarises information about that particular item as below:

To have your product data images displaying here, you will need to provide a product data feed and create product listings ads through Google AdWords that are set to run on Google Shopping. These will be linked to your product data feed or feeds that you have created in your Google Merchant Centre.
Merchants who currently have a Google Merchant Account will now need to add Google AdWords to their armoury and link up these two accounts in order to allow Google AdWords to access their product data feeds.
Once you have both accounts set-up, linking these up is really easy to do. Just log into your Google Merchant account and click on settings on the left and then on AdWords and follow the instructions.
How will Google Shopping be priced? Well, Google Shopping will follow a paid inclusion model. Paid inclusion is roughly defined as a program where websites, product, images etc are listed because they have paid to be there. From Google Below:
Ranking in Google Shopping, will be based on a combination of relevance and bid price–just like Product Listing Ads today. This will give merchants greater control over where their products appear on Google Shopping."

Ultimately, what this really means is that as a merchant you will be paying to be placed in Google search results to obtain visitors who used to come to your site freely. This is more than a little annoying if you think about it. Your organic results will still exist and this is fine. However, if you want to be placed in Google Shopping results, you are going need a budget for something that was previously free. These additional charges will hit the smaller retailers the hardest.
We kind of get where Google is going with this.  If merchants are being charged for something then there is more likelihood that they will endeavour to make an effort and ensure things like product data feeds are the best they can be and super relevant to consumer searches. Additionally, they are more likely to follow Google's rules and regulations when it comes to something like Google Shopping.  When merchants are charged for something you can be sure they are on it straight away – making changes as instructed and adhering to guidelines as a matter of course to ensure that they are not dropped or penalised in any way.
Unfortunately it is something else that merchants are going to have to pay for when budgets are already extremely tight so it is something that they could have done without.  Google Shopping was and is still a great free service for ecommerce merchants and it's a pity they have chosen to monetise it but we can see why they have made this decision.  Google Shopping is used by thousands of merchants so it begs the questions why Google has waited this long  to go down this road.
The new Google Shopping will be with us sometime in 2013 so it makes sense to bring you all up to speed for what lies ahead. For ecommerce merchants and others, we think it makes sense to digest the implications these changes will have now, especially if Google Shopping is a key sales driver for your business.  We are sure there will be lots more on these changes as we move forward and we will endeavour to keep everyone up to date as we hear anthing.
Here are some links that you might find interesting –http://googlecommerce.blogspot.co.uk/2012/05/building-better-shopping-experience.html, http://www.google.com/ads/shopping.
Note – Another thing to keep your eye on as part of these changes is Google Trusted Store. Here are a couple of links http://www.google.com/trustedstores/ and http://www.google.com/trustedstores/merchants/.   At the moment, this is only available in the United States and we have no idea when or if this will be rolled out to the United Kingdom. It is being tested now in the United States and generally, what happens over there comes here so keep an eye on this accordingly.