Magento 2 was released in 2015 and had a huge array of new features for ecommerce.
In the 2.2 release, one of their particular focuses was honing in on the issues of B2B functionality. According to a study conducted by WBR Insights and Magento, B2B system integration is the highest practical constraints encountered by business in terms of IT. They expected that B2B Ecommerce will be making $1.1 trillion by the end of 2019, which is unsurprising given the ever expanding ease that being online gives to businesses. Magento 2.2s streamlined native B2B features release will only help with this.
Simple Account Management
With Magento 2.2, B2B account management is now far simpler. For the merchants, it is much easier to categorise and organise buyer information and designate catalogues to specific buyers. The better catalogue control means that specific buyers can be targeted with promotions and content, as well as access control. This will cause a greater increase of returning buyers.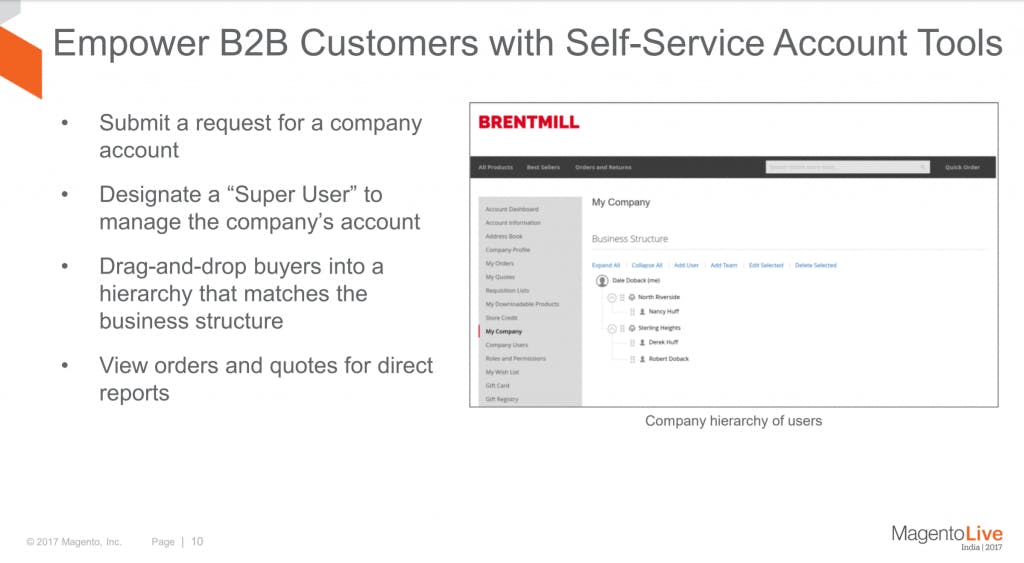 Buyers can request and manage their own accounts. There is also the option for multiple buyers to share a single account with better management of account roles and buyer permissions. This would be helpful, for example, an office supplies business who might sell to multiple departments for another business. With the ability for buyers to manage their multi-user accounts roles can be determined and catalogue control given, buying hierarchies and permissions created and things can be kept track of.
Better B2B Relations
Through their own accounts, B2B relationships are strengthened through streamlined communications and information on orders. Buyers can make quote requests for buying in bulk which merchants can respond to, with an easier way of keeping track of these messages.
Magento have also added negotiation capabilities and easier quote management. Merchants can calculate discounts, potential price changes, shipping offers and make recommendations for alternative products, useful if a specific product is out of stock. For the buyer it is much easier to add supporting comments and documentation, and view status tracking. Merchants are also able to view history logs and communications data which is helpful for determining any targeted promotion strategies or which catalogues to designate.
Overall, this improves the relations between the buyer and the merchant, driving an increase in sales and returning buyers.
Efficient Procurement
B2B procurement is now much quicker and efficient through the ability to enter in SKUs (Stock Keeping Unit) which will notify the buyer whether that stock is available or not. Buyers are also able to upload CSV files with listed SKUs and select products from requisition lists which can contain things like popular products. Merchants can assign these requisition lists to specific buyers as well. As well as this, Magento 2 is also able to list frequently purchased products which allows buyers to quickly and easily re-purchase these products, saving buyers valuable time and resources during their procurement processes.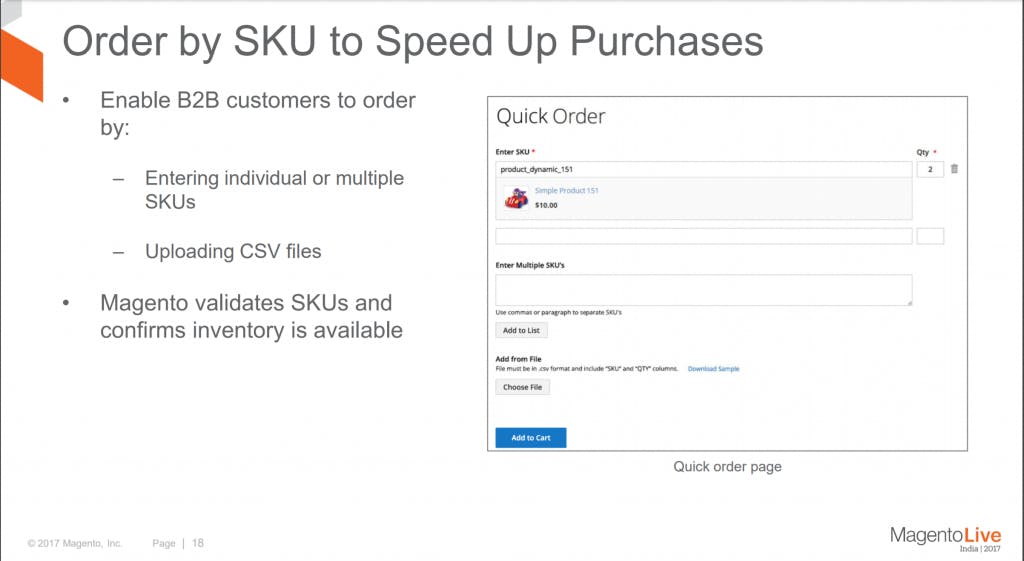 Buyers are also able to make payments on credit, with merchants being able to set minimum/maximum order limits and geographical credit restrictions. Merchants will also be able to monitor customer credit data and allow more truster buyers to exceed credit limits. Buyers will also be able to track their personal credit information.
Magento 2.2 B2B also aims to reduce shipping-related costs with automation of primary shipping processes and better management tools for organising the loading and dispatching of store products.
Overall the Magento 2.2 features for B2B ecommerce promise better user experience through efficiency. Processes that used to take a long time or needed an extension are now streamlined in Magento's native features. Whilst there are some great extensions and integrations out there for improving B2B features, it is excellent to see the platform catering to this side of ecommerce.

Make sure to follow us on Twitter and LinkedIn as we regularly post about ecommerce related news and updates!
Resources