We're extremely proud to have a lot of amazing women here at Digital Six – in fact, we make up one-third of Team D6 and three-quarters of our management team. Unfortunately this is balance is uncommon for tech companies and in many other industries. We want to see this change.
In the lead up to International Women's Day on Friday 8th March, we wanted to share our thoughts on this year's Balance for Better campaign and give our tips on how women can succeed despite the challenges we may face in the work environment. Read on to hear from all 6 of our wonderful women at Digital Six.
Amber – Account Manager
Which woman inspires you the most and why?
Jo Malone – she initially started her business hand-making scented lotions and candles in her home and sold them in the early 90s to Estee Lauder for millions. She's a career woman who has raised a family, overcome cancer, champions women and often highlights the importance of not allowing your inabilities/lack of confidence to hold you back, as she's faced this with her dyslexia her whole career.
I am inspired by her as she has faced adversity and continues to grow her new business 'Jo Loves', champion women in the workplace and is working with the government on creating an education for future generations to explore their vocational skills and not just academic.
What does IWD's Balance for Better campaign mean to you?
Allowing for an inclusive conversation that highlights how women's contribution grows, business, opportunity, community and ultimately the economy. For me, it is about continuing the conversation that gender discrimination is still prevalent and we need both women and men to contribute to this conversation for a solution of balance.
What advice would you give to women who are struggling in a male dominated industry?
Remember that you have every right to be in that industry and for your voice to be heard. You will find it challenging and that's ok, allow that challenge to grow you and strengthen you to speak up for yourself and other women coming through. Ask yourself, what would I do/say if I wasn't afraid? Call out behaviours you don't agree with, for change you will need to create an awareness for both the men and women you work with and sometimes it will only be you who's the changemaker. Set the tone you'd like to see for other women coming through the ranks by sharing your coping mechanisms and sharing your story.
Jenni – Head of Operations
Which woman inspires you the most and why?
My mum! She is a total firebrand and is always pushing herself forward, despite obstacles and challenges along the way. She started and grew her own successful photography business, founded and built a dementia charity from the ground up and is currently (in her 60s) studying for a second degree! She's truly committed to making the world a better place for herself and those around her. She's always there to give me a nudge in the right direction if I need it.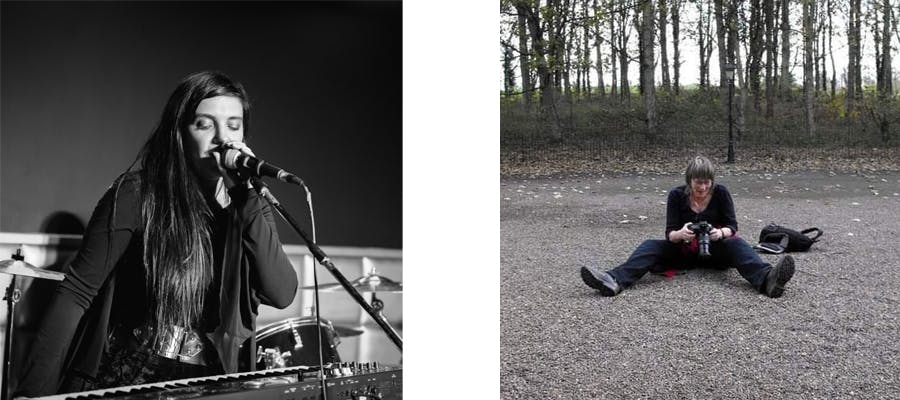 Jenni and her mum (photo credit for image on left: True Storey Photography)
What does IWD's Balance for Better campaign mean to you?
For me it means striving to give everyone a voice. It's important to me that everyone has a platform to be heard – it ensures we are all given the opportunity to see the world through multiple viewpoints and that, I feel, is essential for building a better working environment.
What advice would you give to women wanting to work in the tech industry?
Don't let anyone make you feel unwelcome or unworthy. Take up space, be loud and make things happen. Seek out people who help you do this and work with them to pave the way for yourself and others. Strive to make this the norm and slowly we will turn the tide.
Louise – Sales & Marketing Assistant
Which woman inspires you the most and why?
It's so hard to pick one! I get usually get inspired by women when learning about their lives through autobiographies and documentaries. These include Lily Allen (who's bravely faced so many challenges in her music career and personal life), Grace Coddington (one of the world's top creative geniuses) and Sophia Amoruso (who started with nothing and went on to run one of the world's fastest growing fashion companies of all time).
The woman who has inspired me for the longest time though would have to be Lady Gaga. She encourages people to go after what they want and to be proud of being different from everyone else. It's also incredible to see how far she's come at such a young age. When she was younger, there was a Facebook group made called "Stefani Germanotta, You'll Never Be Famous" and even a previous boyfriend was sceptical. Luckily she had enough self-belief and now she's the first woman in history to win a Golden Globe, BAFTA, Grammy and Oscar!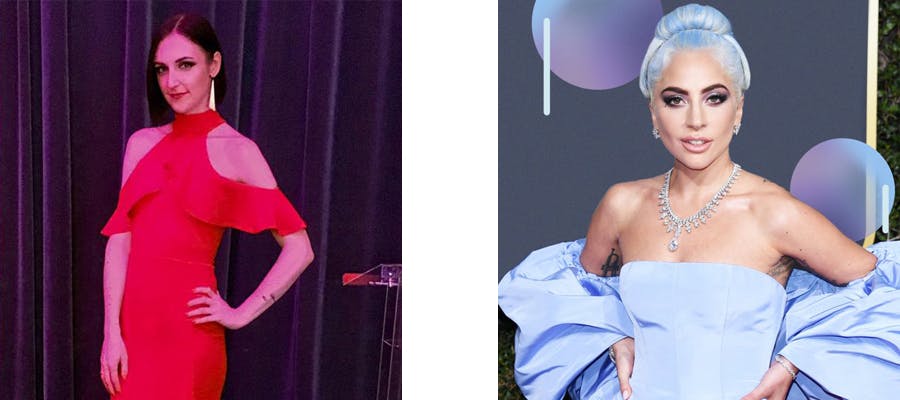 Louise and Lady Gaga (photo credit: Refinery29)
What does IWD's Balance for Better campaign mean to you?
I think it's hugely important that we strive for more balance between genders in the work environment. I only recently discovered how big the gender pay gap is and was horrified! Women work just as hard as men and our skills are just as valuable, so this is one area of gender imbalance that needs to change. Of course, we should have equal opportunities and be treated no differently to men too. We have a long way to go but I'm hopeful that by more and more people taking action, we will see more balance between genders.
As women, how can we support each other to achieve our goals?
I think we need to encourage each other at every opportunity. If someone's done a great job on a piece of work, help lift them up with positive feedback. If someone's needing advice to help get what they want, help them out if you can.
Claire – Head of Marketing
Which woman inspires you the most and why?
My Mum! After years of being a mum to two kids, and in a career that she didn't enjoy, she took the leap and went to college to do something she wanted to do. At 48, she was one of the oldest in her course and despite her insecurities of going back into education, and being much older than the majority of her peers, she achieved a distinction in her course. She now runs a highly successful business that has allowed her to pursue other things she loves such as creating (in my opinion!) amazing pieces of art. She is a testament to the fact that hard work and doing something you are passionate about reaps rewards!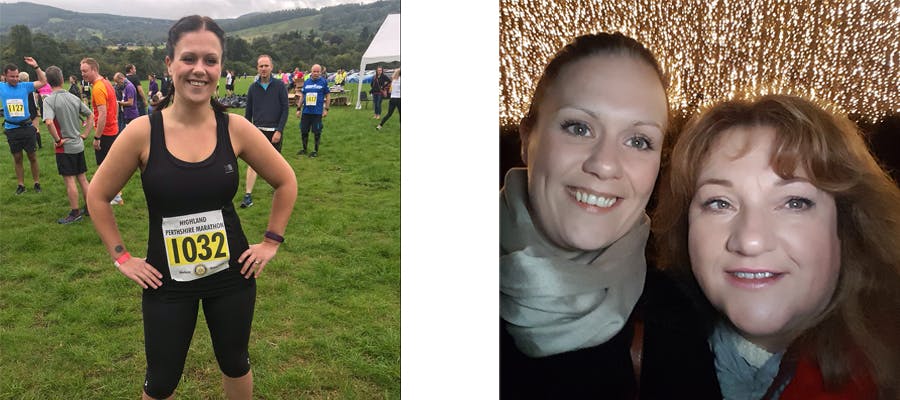 Claire and her mum
What does IWD's Balance for Better campaign mean to you?
Equality, regardless of gender or any other "label."
What advice would you give your 18-year old self?
Stick at it! To quote Dr Seuss: "…those who mind don't matter,
and those who matter don't mind."
Marta – Project Coordinator
Which woman inspires you the most and why?
Martyna Wojciechowska – she is a journalist, explorer, traveller, writer, producer, movie director, and fighter for women's empowerment around the world. She has travelled around the world twice, completed Seven Summits, she is the Editor-in-Chief of National Geographic Poland and she was the first woman from the Middle-Eastern Europe to finish Paris-Dakar Rally. She is considered being an ambassador for women across the globe and a role model for young women (she even has her own Barbie!) She is adventurous, independent, strong and brave! And proving that as a woman there is nothing that we cannot achieve.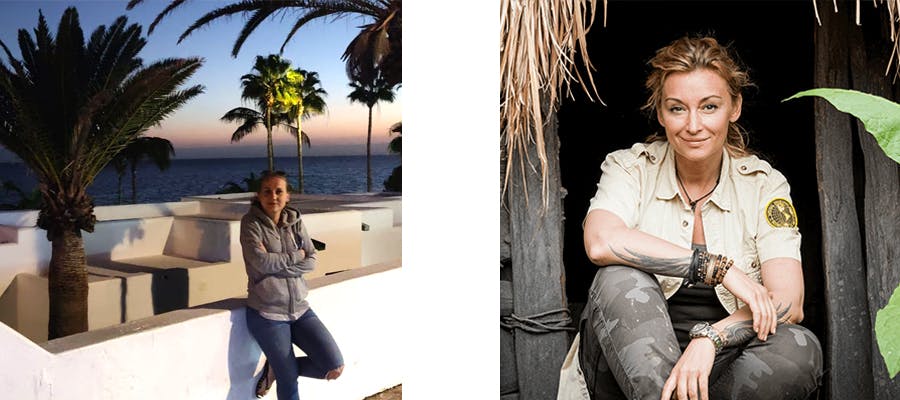 Marta and Martyna Wojciechowska (photo credit: barbie.mattel.com)
What does IWD's Balance for Better campaign mean to you?
It's a reminder that there is still a lot to do about gender inequality in 21st century, but also that change often starts small, and we as women are responsible for raising awareness of this problem and try to make a difference as much as we can in our day to day lives.
What advice would you give your 18-year old self?
Don't be afraid of trying new things! If you fail, that's ok – at least you will be able to say that you've tried.
Kate – Managing Director
Which woman inspires you the most and why?
My mom, Sandra, inspires me the most. She's never let any gender barriers stop her – from being the first woman on her college's sailing team to becoming Communications Director for the US's largest adoption agency. She always stands up for what she believes and takes action – for example she's now actively working with the Sierra Club in Florida to stave off the over development that is damaging the local environment and petitioning big DIY stores to stop using pesticides to "save the bees" . When I was growing up she never told me there was a glass ceiling or that my gender was a barrier in anything I wanted to do.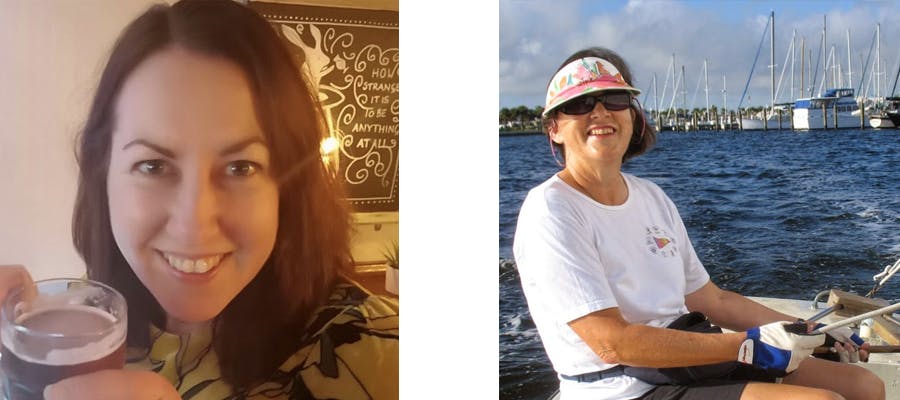 Kate and her mum
What does IWD's Balance for Better campaign mean to you?
Balance for Better means to me that women and men have a good work/ family life balance, a comfortable and supportive working environment with plenty of opportunity for progression no matter what gender. Everyone in a team benefits when there is balance at work.
What advice would you give to women wanting to work in the tech industry?
I think that there is a huge opportunity for women, as I know that most tech companies are looking to hire more in their teams. We try to achieve as much of a gender balance as possible at Digital Six, but we receive very few CVs from women for software development roles. A balanced team is always a better team and in the future we would like to add a few more women to our development team. My advice would be to contact tech companies (including Digital Six) with a strong CV, as there are a lot of opportunities.
We hope you enjoyed our Q&A and maybe it's even inspired you to have this kind of discussion with your own team. We have more International Women's Day activities coming up so keep a lookout on our Twitter and Instagram as well as our blog.
For more information on International Women's Day 2019, and to find out how you can get involved, visit internationalwomensday.com