Further to our post in April on 'Should You Internationalise Your Ecommerce Website', I thought it would be helpful to follow this up with some considerations for your business – when you come to internationalise your website.
Yes, I did say when you come to do this. I do believe that international ecommerce is inevitable for any serious online retailer, as it was for Chelsea to win this seasons Champions League.  It did not matter what any other team did or tried to do to win this season's competition it was always going to be Chelsea.  Their name was on that cup and it was a given they were going to win.
Like Chelsea, international ecommerce is inevitable whether we like it or not and it has to be on the radar of serious online ecommerce players as it presents a tremendous opportunity for online growth and sales ambitions.
We are seeing more and more examples of this from our own clients and I thought it would be useful to share with you a recent sales chart from a client's online sales.  These results below  represent sales in 2012.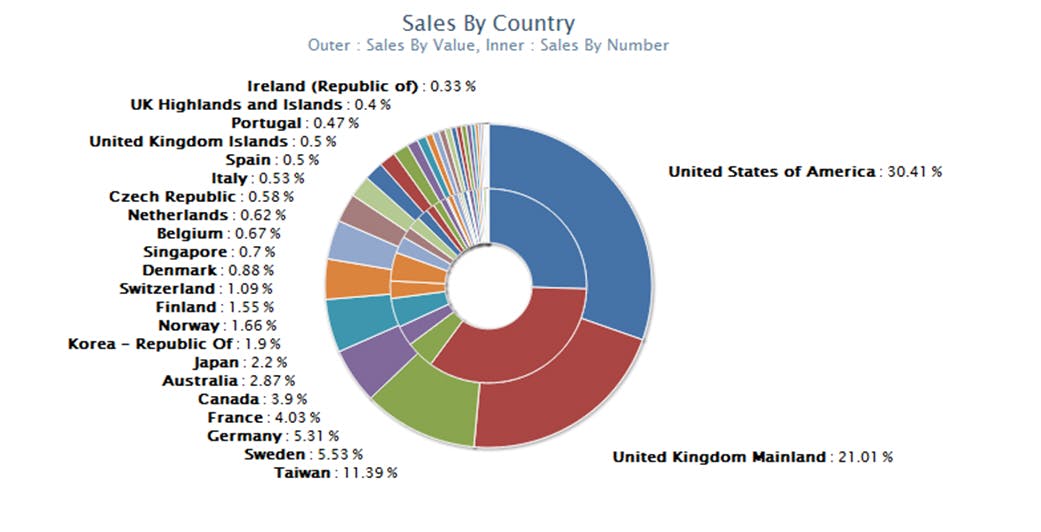 Amazingly, the UK accounts for only 21% of their actual online sales, with around 79% coming from other countries across the globe.  That is huge and really does highlight the opportunities available right now for ecommerce retailers to take their businesses global. Granted, this is one of our clients whose products are desirable abroad, especially in the US, but what a market to consider and target based on customers and sales analysis.
For those of you that need a little more convincing, consider the following:
ASOS
Yes, them again, but if you want the benchmark for an international ecommerce success story then these are the specialists to check out. ASOS has prospered by their international ecommerce approach and expansion.  Revenue for the year to the end of March 2011 was up by 52% to £339.7m, with international sales rising by 142%. Their pre-tax profit was £15.7m against £20.3m the previous year, due to £12.9m of relocation costs. Taking out these costs, profits rose 41% to £28.6m.
They remain on track to hit £1bn of sales by 2015.  Pretty impressive I have to say and clear indication of what is achievable if you do International ecommerce in the right way.
If you take a moment to visit the ASOS site and have a look to see what countries they are currently targeting it comes as no surprise.  These countries are all the major ecommerce adopters (something to keep in mind) and it makes sense for ASOS to target these countries as they are more likely to achieve online sales.
ASOS also do international ecommerce the right way by enticing customers from other countries. Their websites for France and Italy have their own unique version of the website, with the correct country top level domains, language and currency.
For example, a  language version of a country website is a must to encourage trust and online sales.  If your customer arrives on your (English) website from say France and your product is cheaper (including delivery) than a French counterpart, the French customer is still likely purchase the product from the more expensive French company.
However, if you direct that same French customer to your website and provide them an online environment more suitable to in terms of offering product descriptions in their language and pricing in their currency you are much more likely to make the sale and more importantly gain an overseas customer. Software such as Google translate exists and might be a starting point, but I would recommend going that one stage further by getting your website translated by a human being.  The subtle differences that a human being can bring grammatically as opposed to a piece of software could be the difference in making a sale or not.
It will be worth watching ASOS to see where they go next. I have a feeling that Eastern Europe and Asia will be their next port of call,but you never know.
So to summarise, I do think international ecommerce is now and I think it is about time our ecommerce players started to cotton on to this and prepare accordingly.  The odds on Chelsea actually winning the Champions League were massive and how they actually did it is anyone's guess.  As they progressed, the more (to me anyhow) it appeared that their name was on the cup.
It was inevitable you might say…
Note – there are a multitude of factors to consider doing international ecommerce right and if you can take any more, I will post something on this soon.