Do your tweets get as much engagement as you'd like? Twitter is a great platform for communicating with your audience, but it's only really worth it if they're responding. The more replies, likes and retweets you receive, the better chance you have of your followers becoming loyal customers. To help you with this, we've put together the most effective ways to boost your Twitter engagement.
Tweet When Your Audience Is Active
Twitter is based on real-time, meaning users will only see recent tweets at the top of their timeline. This makes it really important that your tweets are sent at the best times for maximum visibility and engagement. To find out when your followers are most active, you can use the free online tool Tweriod. After connecting your account, it will display your stats in a handy graph.
Once you're equipped with this insight, you can schedule your tweets with the platform of your choice. Our favourites are Hootsuite and Twuffer which are both really easy to use.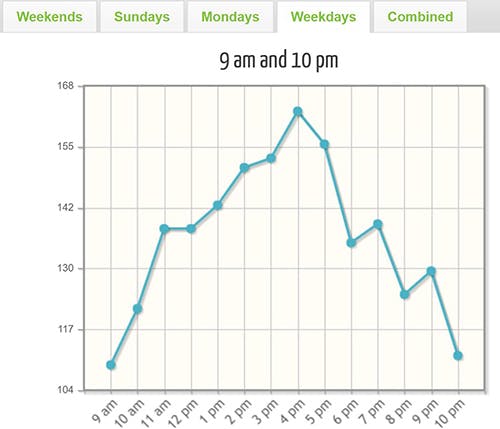 Use Hashtags
Tweets that include hashtags are 33% more likely to be retweeted than those without. Though it would be overkill to use them in every tweet, they're good to use when relevant. Think about the hashtags that your target audience would search for and also consider trending topics. You can also use the online tool RiteTag to find the most effective tweets. Simply type a word into the search bar such as 'fashion' and it will show a list of hashtags containing that word Eg. #fashionista, #winterfashion etc. Alongside each of these you'll see the hourly rate of unique tweets, impressions and retweets. You can also sign up to receive notifications when new hashtags emerge for your chosen topic.
Less is more when it comes to hashtags on Twitter. Studies have shown that the more hashtags used in one tweet, the less they are retweeted.
Share Images
Studies have shown that tweets with images get over three times more engagement than those with only text. You can share up to 4 images per tweet but even posting just one can help drive extra engagement. Post a mixture of interesting photos rather than purely showcasing your products as this can seem to salesy. You could share images related to industry events, trending topics or show what your team are doing behind the scenes. It's best to crop your photos to Twitter's dimensions of a 2:1 ratio so that they look their best in the timeline. One way to encourage retweets and further engagement is to tag people or brands that are featured in your photos. Often those who are tagged will appreciate being featured and share your tweet. This helps your tweets reach a wider audience that could have similar interests to those tagged.
Run a Poll
Polls can be a fun and interesting way for your followers to interact with your brand on Twitter. You can set this up quickly by clicking the poll icon in your Tweet box and choosing your question with up to four answers for people to choose from. You're also able to choose how long the poll runs for with a maximum of 7 days. Once you've published your poll, users can vote which will then allow them to see the results at that point in time. Often people will want to participate because they're so curious about the results!
Try to vary the types of poll questions to keep to your audience interested. They could be related to your products, brand or your industry. Short and simple questions tend to have the best response rates.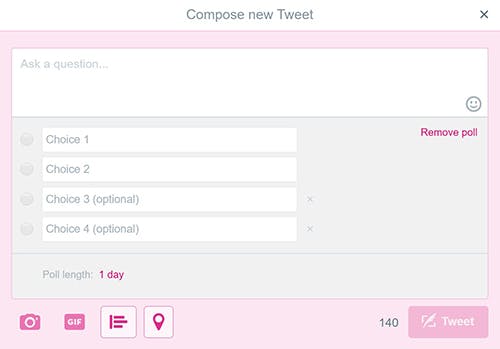 Reach Out To Your Top Followers
Twitter Analytics offers some really valuable data that you should use to help with your social media strategy. One of the most useful insights for this is your 'Top Follower' of each month. This can help you find influencers who have recently followed your brand. Keep in mind that Twitter bots are on the increase though, so check they are genuine followers. The number of accounts they're following is a good indicator! Once you've found your most influential followers, make continuous efforts to engage with their tweets. The best way to keep on top of this is by adding them to a stream in Tweetdeck so you can easily see their tweets in real-time. By building a relationship with these influencers, they could become brand advocates which can help you reach a wider audience.
Use GIFS
GIFS are a great way to make your tweets more fun and help showcase your brand's personality. They work well alongside witty and relatable captions which can increase your chances of retweets. To add a GIF, simply tap the GIF icon within the tweet box and search via their suggested categories or typing in the search bar.
You could also create your own GIFS and feature your products in action. This is easy to do with online tools such as Gifmaker. Make sure you stick to Twitter's dimensions and don't exceed the maximum file size. Uploads from mobile can be 5MB maximum, however uploads from web can be up to 15MB.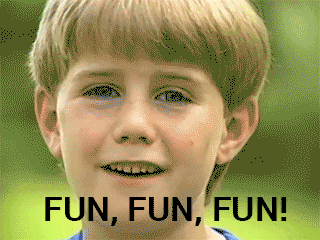 Participate in Twitter chats
Twitter chats give you the opportunity to engage with users who have an interest in a particular topic. Have a look for chats that are relevant to your brand. TweetReports website has a handy schedule of twitter chats which lists the unique hashtag used, the host and a description of each chat. By joining in your chosen chats on a regular basis, you can build brand awareness as well as your following. It also means your tweets are seen by people who are wanting to engage rather than simply scroll through their feed.
You could even host your own Twitter chat. This requires a lot of planning to make sure it's a success –
Choose a unique hashtag that's relevant to your brand
Pick a time and day of the week/month to host your chats. Looking at when your audience is most active can help you decide.
Decide on the topic for each chat, along with a few questions.
Spread the word! Schedule tweets that remind people when they can join your chat. You could even let people know your questions in advance.
Most Twitter chats run for one hour with questions appearing every 10 to 15 minutes. This gives participants enough time to answer as well as engage with others.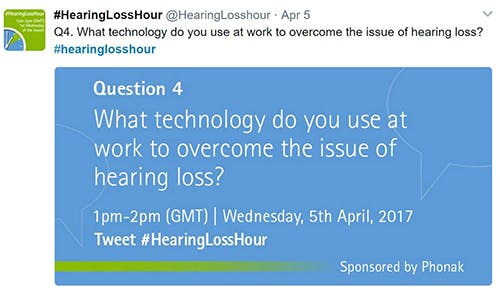 Keep Your Eyes Peeled!
We hope you're enjoying our Social Media Engagement series so far. Next time we'll be giving you ideas to increase your engagement on Instagram. Stay tuned!