Facebook has far more active users than any other social media platform. This can help brands reach a wider audience, however if people aren't engaging with your posts, your organic reach will suffer. It's a bit of a catch 22: Facebook's algorithm prioritises posts that gain high engagement, but people need to see your posts in their newsfeed in order to engage with it! This makes it really important for businesses to find the most effective ways to get the ball rolling. We've put together some of the best techniques to help get those all important comments, reactions and shares.
Ask Questions
Some people need a little encouragement to engage, and asking questions can help motivate them to join in the conversation. Facebook is a popular platform for people to share their opinions so make the most of this. It's best to ask questions that are related to the interests of your fans and keep your questions short. These are some examples of the types of questions a cosmetics brand could ask:
Experience: Which of our tutorial videos have you found most helpful?
Tips: What's your top eye make-up trick?
Timely: Which was your favourite beauty look at the London Fashion Week shows?
Fun: If you were stuck on a desert island, which 3 beauty products would you want with you?
Photo feedback: Which of these new lipstick shades are you most excited to try?
Use Stories
Most social media platforms now have a feature called Stories which is becoming a hugely popular way to share photos and short videos. This appears as a horizontal feed above Facebook's newsfeed on mobile phones. Users can click on the profile icons of the Stories they want to view, with 24 hours before each Story disappears. As this is a brand new feature for Facebook, not many people have started uploading Stories. By getting in their early enough, your's will have better visibility and a greater chance of them being viewed. The photos you find on Stories are generally less polished than photos published on a brand's page. Consider behind-the-scenes snapshots, such as what your team are up to and photoshoots for your upcoming range. This can help fans understand more about the brand and add some personality.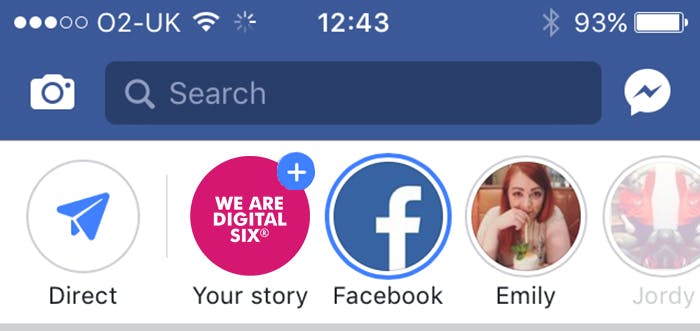 Track Your Competitors
It's definitely worth keeping an eye on what your competitors are up to on Facebook. To monitor other pages, click on the Insights tab at the top of your Facebook page and select Pages To Watch (under your Top Posts). You can then set up to five pages you'd like Facebook to track. Once this is set up, you can see how much engagement each page has gained within the past week. If you notice any of these are particularly high, make sure you check out which content on their page has been the most successful. Try to figure out what could have encouraged engagement, whether it's a trending topic, an enticing offer, a captivating image etc.
Post When Your Audience Is Online
Another useful Insights report is 'When Your Fans Are Online' which you can find by clicking the Posts tab. The graph at the top shows the number of fans that used Facebook on each day of the previous week. The bottom graph indicates the time of day fans were active. Times of day will vary depending on the day of the week, so hover your mouse over the days in the top graph to see this.
Once you discover when most of your fans are active on Facebook, you can schedule posts for these times. There are various platforms that make social media scheduling easy such as Hootsuite. By making sure your Facebook posts appear at optimum times, they're more likely to reach your target audience, which in turn can help improve engagement rates.
Publish Organic Videos
In 2014 Facebook's CEO Mark Zuckerberg was quoted as saying "In five years most of Facebook will be video". You've probably noticed when scrolling through your newsfeed that videos are a high priority for the social platform. So if you're wanting to maximise your posts' organic reach, videos have a better chance. Facebook favours videos that are uploaded directly from your device compared to sharing a video from sites such as YouTube. Also keep in mind that videos automatically play without sound. A good way to quickly grab your audience's attention is by using text overlays in your videos. This means people can watch your videos on the go from their mobiles, or watch while they're listening to music – increasing the number of views and potentially other engagement too.
Use Facebook Live
Facebook Live is becoming increasingly popular and reaches a higher volume of users compared to other posts. Not only that, but it allows your brand to communicate with your audience on a more personal level. While watching your live broadcast, viewers can comment and ask questions in real-time, which can make them feel like they're part of what you're hosting. It could be an event, a Q&A session with an expert in your industry, or perhaps a reveal of your new product. Once your live broadcast is over, people will still be able to watch, comment, react and share. Often fans can feel more connected to a brand after participating in their Facebook Live video, which can lead to ongoing engagement thereafter.
Run a Photo Contest
A great way to encourage user-generated content is by running a photo contest. You'll need to start by thinking about when to launch it and what you want to gain from it. Do you want to raise awareness of a new range? Are you keen to increase your number of fans? Do you want your fans to share their experiences using your products? By defining your goals, you can come up with a plan that can benefit your company the most.
These days the majority of social media users enjoy using it to share their photos. Mobile phone technology makes it quick and easy to photograph then upload pictures to Facebook. To maximise entries, opt for a photo theme that the majority of your fans can easily take photos of. Also, if your company has creative fans with interests such as make-up, fashion or cooking, they are more likely to participate in contests where they can photograph their creations.
You'll also need to choose how the winner will be selected. If the public vote through liking their favourite photos, it can help increase engagement. On the other hand, some people can be put off by "popularity contests" and would prefer judges to decide on a winner. You could include both with 2 stages, for example public votes narrow down the 10 most popular entries and a judge selects the winner.
Make sure you have enough time on your hands to manage your photo contest. You'll need to carry on pushing it once it's launched and monitor the content of submissions. Also make sure you follow Facebook's rules for competitions. Breaking the rules could lead to your page getting suspended. For more tips on how to run a successful competition click here.
Find What Works For You
Hopefully these ideas have inspired you to engage with your Facebook fans in new ways. It's really a case of trial and error to discover what kind of content resonates with your fans, so make sure you're analysing the results of your efforts. Look out for the next post in our social media series which will be focusing on Twitter engagement.