A few weeks ago, Google Posts was rolled out to all businesses that use Google My Business (GMB). The new feature let's you connect with customers directly from your Google listing and can help you attract more visitors to your site. We've been trying out different Google Posts for the Digital Six website, promoting timely content such as new blog posts and job vacancies. It's really quick and easy to use and it's a great way to encourage searchers to click on our site. We think this is particularly beneficial to retailers so we thought we'd give you the lowdown!
Creating Google Post
Google Posts can be accessed from your computer or on the Google My Business app available for iOS and Android. When creating your post, you're given various options including adding text (300 words max), uploading an image (minimum 250×250 pixels), adding an event (with a title, start and end dates) and choosing a call to action button. There are five CTA buttons currently available:
Learn More
Sign Up
Get Offer
Reserve
Buy
Along with your selection, you'll need to insert the link that relates to your post. For example, you might want to include a link to your latest blog post with the "Learn More" call to action. Once you've created your post, you're able to see a preview of how it will look. If you're happy with it, click the publish button and your post will appear in Google search and Maps in just a few moments.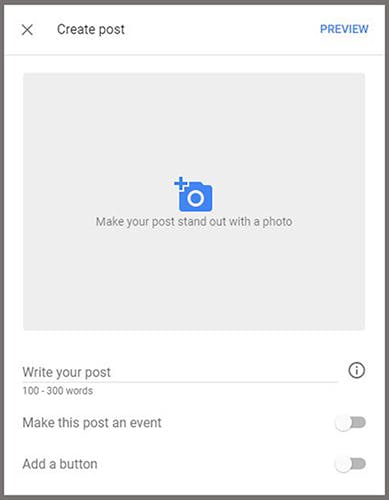 Google Posts expire within 7 days after they've been published so make sure you create new ones regularly. Up to 10 posts can be displayed in the carousel format which users can scroll through.
There are many different types of posts you can create. Here are some ideas that you might want to consider:
Share new promotions or daily special offers
Promote upcoming events
Showcase your bestsellers or new arrivals
Promote a single product
Promote your latest blog post
Take reservations
Encourage newsletter signups
Advertise job vacancies
One of the things we noticed when testing our posts is that when viewing them in the knowledge panel, the text cuts off at different points depending on the device you're using. Below you can see how the post appears on the Samsung S7 (left screenshot) which shows the first 42 characters compared with the iPhone 7 (right screenshot) which shows the first 55 characters.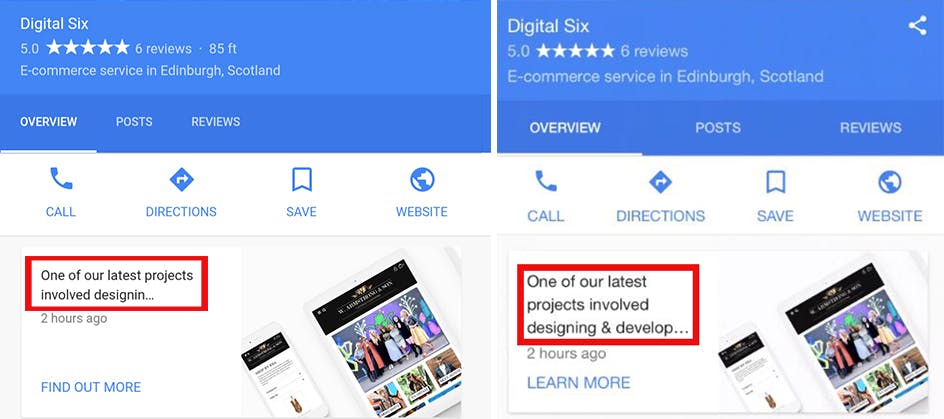 Users need to click on the post to read more (or select the Posts tab on mobile phones), however most people probably won't know to do this at this early stage. This makes images the best way to make your post stand out. For example, if you're promoting a discount offer it would be a good idea to add a colourful graphic with the discount in big bold text.
Top Tips For Google Posts
Check how many clicks your posts are getting to find out which types are attracting people to your site. You can see this by clicking the eye icon underneath your published posts along with the number of times the posts have been viewed
Tracking: It's well worth tracking the behaviour of the people who click to your site, particularly for the product based posts. Since Google Posts data doesn't automatically show up in Google Analytics, you'll need to do this by using UTM codes. Simply create a custom URL then paste it into the CTA link field when you're creating your post. Once your post starts getting clicked on, you'll then be able to get insights from Google Analytics e.g. whether people made a purchase after clicking on your post
Wording: Each post should focus on one single selling point. For example, it would be bad practise for a post that featured two offers: "15% off all shoes and buy one get one half price on basic t-shirts."
Images: Visual posts are more likely to get noticed and encourage engagement so try to include an image every time. Google let's you upload images with a high resolution so make sure you take advantage of this.
Find Out More