Communicating via email is a great way to build relationships with your customers and get them shopping on your site. It is no longer enough to rely on batch and blast emails that are sent to all of your subscribers with the same messaging at the same time. Newsletters and emails featuring newly added products still have their place, however your email strategy should also include automations, also known as triggered emails. These types of emails help you target the right people at the right time. Not only that, but your subscribers are more likely to find these emails relevant to them. This results in higher levels of engagement and progression along the sales funnel.
There are many platforms available that allow you to setup automated emails. Your email provider may also offer a variety of different automations; MailChimp for example make it easy for users to create them. Although every platform includes different options in the setup process, the same principle applies for how they're sent out. Automated emails are triggered based on user behaviour such as signing up to your newsletter or completing a transaction. Read on to find out which types of email automations you can include in your strategy, and why.
Welcome Email Series
When your subscribers sign-up, you should start trying to build a relationship with them from the get-go. This can be done through an effective welcome email series. Rather than only sending the basic subscription confirmation, you can send multiple messages, which help set expectations for your subscribers and encourage them to start engaging with your brand.
The first email usually thanks the subscriber for signing up and should also let them confirm the subscription. This should be a fairly simple email so they don't get distracted from the double opt-in process, which you want them to complete! They should then receive a follow-up email that acts as a friendly welcome and explains what to expect from their subscription. A good example of this is Mango's welcome email, which has a personal tone and gets the subscriber excited about what's to come in future emails. They've also included a discount code for subscribers to use on their first purchase. This is a good reward for sign-ups, and increases the likelihood that they'll open future emails from you.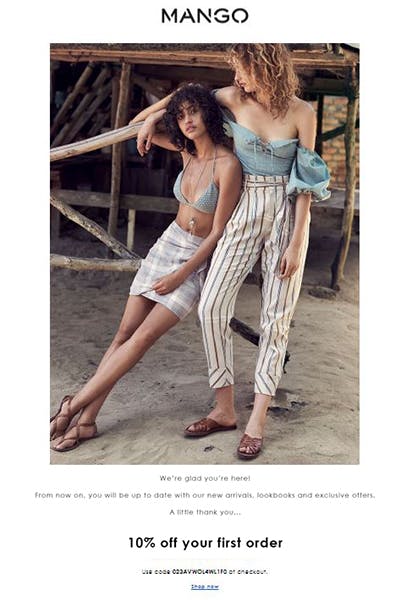 Consider these types of content in your welcome email series:
Tell your story to help build familiarity with your brand. Don't forget to include your USPs
Encourage subscribers to follow your brand on your social media. This helps build cross-channel engagement
Let subscribers know how fantastic your products are by including customer/client testimonials
Link to some of your best performing evergreen content. This is a great way to add value and subscribers to your newsletters might become regular readers of your blog
Re-engagement Series
Subscribers can become inactive for many different reasons; you could be sending emails too frequently, or maybe you're not providing enough valuable content in them. However, this doesn't mean that your disengaged subscribers are no longer interested. They may just need some encouragement to start clicking through your emails again. The best way to achieve this is by creating an effective re-engagement email series.
It can take a number of attempts to "re-awaken" subscribers, since they've got so used to ignoring your emails. By creating a series of three emails, you can try a number of techniques to win them back. Here are some examples of what you can include:
Let subscribers choose from different subject categories so they only receive what they've shown an interest in, or allow them to choose the frequency of their emails. This can help subscribers who have inbox fatigue
Display product recommendations based on what they've purchased in the past. This can help get them excited about your products again and encourage them to make a purchase
Tell them that you miss them! It can help show that you care about them and it also helps humanise your brand
Offer a discount code. Leave this until your 2nd or 3rd email so you can try more cost effective techniques prior to this one
As you can see in the example below, Dahlia let's their inactive subscribers know that they're missed. They've also featured a generous incentive to help win them back. It comes across as a friendly message, although it could be slightly improved with personalisation that includes the subscriber's name.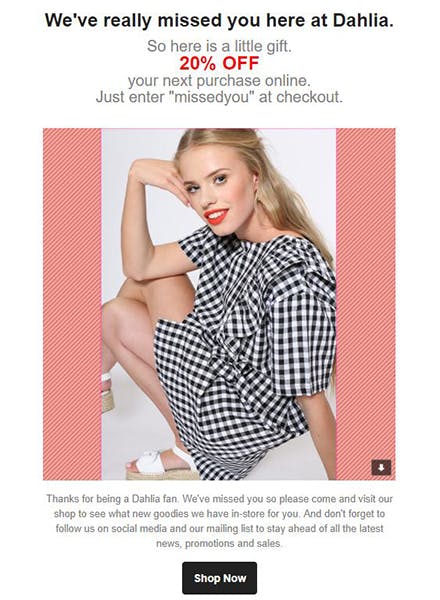 Abandoned Cart Series
According to research carried out by Baymard Institute, shopping carts have an average abandonment rate of almost 70%. Often this can be because shoppers were comparing prices, saving the items for later, or they got distracted and forgot about what they were going to buy. Don't let all of these potential customers slip away! Create a series of abandoned cart emails that encourages them to complete their order.
The first email should act as a gentle nudge to remind them of the items they left in their cart. You don't want to sound too pushy as the customer might not be at the stage where they're ready to buy yet. Show them pictures of the products and include a simple link that takes them to the checkout page.
As you can see below, Urban Outfitters have used a casual and friendly tone in a short reminder message that includes a link to complete their order. They've also included two CTA buttons; one that lets them view the product and one that let's them continue shopping. Although these aren't essential to include, it gives recipients more options and could even lead to a bigger order value.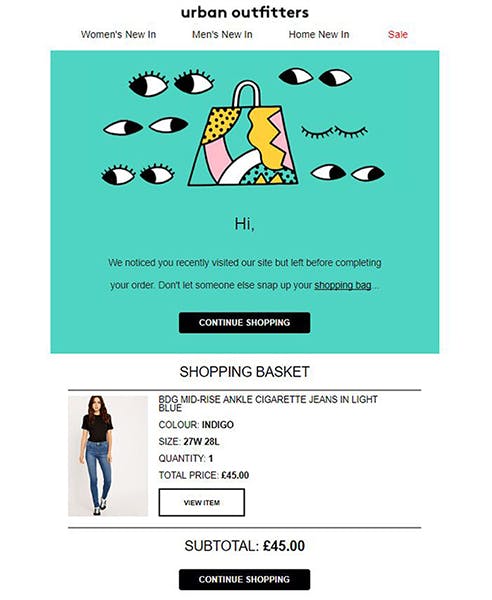 The second email should create a sense of urgency. Let them know that their shopping cart is going to expire or include a discount code that has a time limit. Discounts shouldn't be sent to the same contacts each time though. You don't want savvy shoppers waiting for a discount whenever they leave an item to their cart!
Timing is an important factor with an abandoned cart series. Here's a guide for when they should be sent out:
1st email: A maximum of 24 hours later
2nd email: Around 24 hours after that
3rd email (optional): Between 2 to 3 days later
Recommended Products
Another great way to increase engagement and conversions is by sending out emails with recommended products. Many automation platforms let you choose how this type of email is triggered, for example when someone is logged onto your site and visits a specific category page or when they view a product but don't add it to their basket. Once set-up, shoppers can receive personalised emails based on the product or category they were viewing. The email platform's algorithm can also take into account the bestsellers related to the product or category.
People often respond well to this type of email because it feels more relevant to them. This means they're more likely to click on featured product links and shop on your website. Include high quality product images and make sure the email is optimised for mobile. The recommendations should stack one on top of the other when viewed on mobile devices for greater visibility.
Post-Purchase Follow Up
Another triggered marketing email to consider is the post-purchase follow up. Looking after the customers you have worked so hard to generate is an aspect of business that should not be overlooked. It's easier and more cost effective to grow business from existing customers than to acquire new ones, and customer follow up is an excellent way to do this. Very few retailers use this type of email automation, so it's a great opportunity for you to gain an edge.
Make sure you thank your customers for their purchase to let them know they're appreciated. You could also request a review of the recently purchased product. This not only shows that you care about their satisfaction, but it also benefits your company if they leave review on your site. If you use a 3rd party review platform such as Feefo or TrustPilot, feedback requests are automatically sent. However, if your customers can leave reviews directly on your website, this type of email automation is worth setting up.
Make it easy for them to do this, and let them know that you value their feedback. As you can see in the example below, Brora has explained why the customer's opinion matters to them and they've left clear instructions on the review process. Although these are good points, they've only explained why the feedback benefits This isn't a great way to persuade customers; instead they could include an incentive such as free shipping on their next order. The email could also be improved though by adding strong imagery. Post-purchase emails should help generate a lasting impression, and this one doesn't evoke a sense of excitement!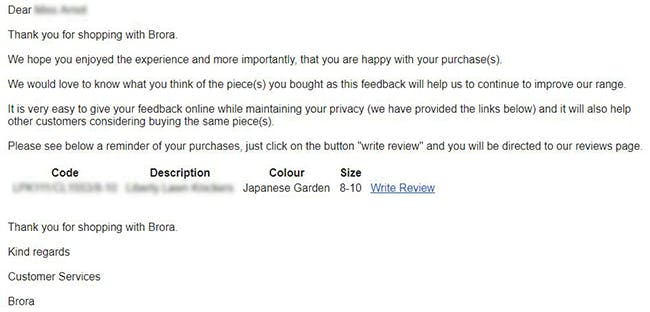 If email automations aren't a part of your marketing strategy, hopefully you now understand how they can help your company grow. Take time to create well crafted emails for each automation and over time you can include A/B testing to improve your success. If you'd like our marketing team to help, feel free to get in touch.