We are thrilled to have won The Ecommerce Award category at the 7th annual Herald Scottish Digital Business Awards for the project we completed on behalf of ETB Technologies Ltd: the Ecommerce category was sponsored by Business Gateway and we were delighted to accept this award.

The competition was tough, throughout all of the categories, but ETB Technologies Ltd's website has revolutionised the online purchasing of servers and digital storage. Site visitors can select their chassis model, CPU, Ram, Raid Controller, Hard Drive and a number of other optional elements. The server configurator is a highly successful feature for ETB Technologies Ltd and their customers, and very much worthy of the award.
   
The event was hosted by, Des Clarke (with an 'e') who kept the crowd (and presenters!) on their toes. The Herald cut-outs went down a storm – we were disappointed about not winning the selfies competition but we can't win them all!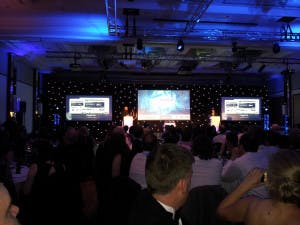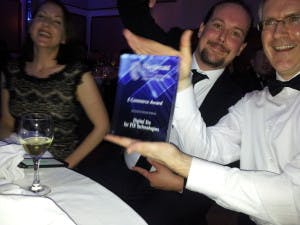 MASSIVE congratulations to all the winners and a special thank you to all of the sponsors, without which the event would not have been possible: Business Gateway, City of Glasgow College, Enigma People Solutions, FanDuel, Jumpstart and SCVO. The tireless efforts of Lyndsay and the entire Herald Events team involved in making last night the success it was didn't go unnoticed – thank you, we really did have a brilliant night!