Digital Entrepreneur Awards 2015
Winners: Web Development Project of The Year
What can we say…… we are absolutely astounded to have bagged ANOTHER award!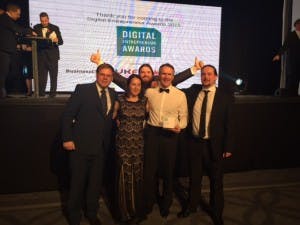 Last night we attended the Digital Entrepreneur Awards (DEAs), held at the Palace Hotel in Manchester. We are utterly delighted to have been awarded Web Development Project of the Year for a project we completed for one of our awesome clients, Athleat.
Athleat is an online fresh meat and poultry supplier targeting the fitness and sports industry and was looking to considerably upgrade their website to facilitate further growth and expansion. Athleat have been providing quality meat online for a while but their previous website lacked the flexibility needed to provide their customers with a fully customisable, online meat subscription service.

We believe Athleat's new website delivers a uniquely special project to the digital market as there is simply no other like it. From user experience through to checkout and setting up a subscription, our website offers our customers a unique ecommerce experience with flexibility and full control over their online subscription.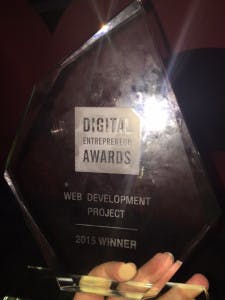 We decided to enter the Web Development Project of the Year category in conjunction with our client, Athleat because quite frankly we believed their project is worthy of an award….now we know the project is worthy of the award. Competition was very tough, throughout all of the categories so we are chuffed to bits to have stood out amongst such a talented crowd.
We would like to say a massive congratulations to all of the other finalists and of course the winners. We would also like to thank the Digital Entrepreneur Awards for putting on such a fabulous night, we all had a ball!