Is your brand attracting as much user generated content as you'd like? User generated content (UGC) has many benefits; it is cost-effective, increases brand awareness, boosts consumer's trust, generates traffic to your site and ultimately helps grow sales. It's no wonder most ecommerce businesses include UGC as part of their content strategy.
Acquiring user generated content can be a challenge, however it might just take a new approach to start generating more UGC. We've put together some recommended methods below to help build UGC on your social platforms and your website.
Build an engaged audience
The most fundamental way to encourage UGC is to build an engaged audience on social media. Although there is no magic formula for this, there are certain efforts you can make that should help. Firstly, your content needs to be fresh and relevant to your audience, while sticking with your brand's identity. Keep up to date with current trends and post about topics and events that your audience are interested in. If the content resonates with your audience, they are more likely to comment on your social media posts.
When you receive comments on your posts, make sure you reply as often and as quickly as you can, particularly if they are asking a question. You can also interact with your followers by liking posts your brand has been tagged in and sharing them if the post would interest your audience.
ASOS is a great example of a brand that effectively engages with their followers. As you can see below, they ask questions and retweet their favourite posts along with their own humorous comment. This helps humanise the brand and shows their followers that they want to hear from them – without sounding pushy! The more engaged your followers are with your brand, the more likely they'll create UGC.
Image source: @asos Twitter account
Create a designated hashtag
Hashtags, when used strategically, can be a great tool to help generate UGC. This is particularly effective on Instagram and Twitter. Have you considered creating a designated hashtag for your audience to use?
Lululemon have built a community on Instagram with their hashtag #thesweatlife. Fans are encouraged to share how they live "the sweat life" in an Instagram post, using the hashtag. So far, the hashtag has been used 830k times, so anyone who clicks on the hashtag or searches for it will be able to view plenty of yoga/health themed images, with most featuring customers wearing Lululemon's products.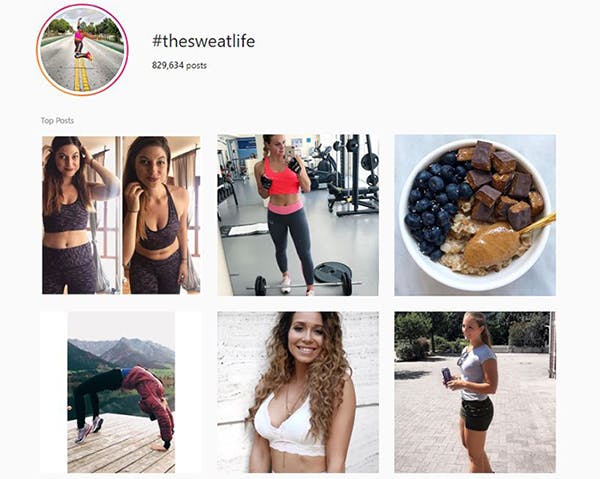 Image source: @lululemon Instagram account
The hashtag is featured in Lululemon's Instagram bio, which is a great way to encourage followers to use it. You could also spread awareness of your hashtag by mentioning it in your social media posts and have it printed on customers' receipts or flyers within their delivery.
Depending on what you sell, and your turnover of stock, you could set up include a different hashtag for each product. For example, Lush Wigs features a unique product hashtag that incorporates the product's name with the brand name. When searching for the hashtag, users can find various images of customers wearing the specific wig they're interested in. This is is valuable UGC as it shows the products being worn in real life and can help customers make purchasing decisions. Lush Wigs also heavily use UGC in their Instagram account by reposting their favourite customer photos.
Ask for Product Reviews
Product reviews are an incredibly valuable form of user generated content. As online shoppers can't see your products in real life, purchasing decisions can be difficult compared to shopping in brick and mortar stores. Customer reviews can play a major part in helping online shoppers decide whether it's worth buying the product. According to a recent survey by BrightLocal, 85% of consumers trust online reviews as much as personal recommendations. By making consumers feel more secure in their purchasing decision, product reviews can make a big difference to your conversion rates.
Marketing automation platforms such as Yotpo are great for helping online retailers gain product reviews. For example Tilt, a professional makeup retailer, gather reviews and ratings through automated emails using Yotpo. The email below was sent a couple of weeks after the order was delivered, allowing enough time to test the product. As you can see below, the review form is embedded within the email which makes it quick and easy for customers to submit a review. Yotpo allows you to customise the form to suit your brand's needs and you can even include a coupon to incentivise customers.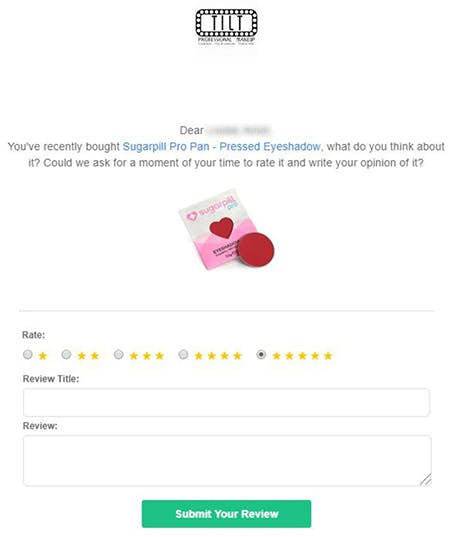 Use Community Q&A
Another way to gain UGC on your website is by using Community Q&A (available with Yotpo's premium subscription). Community Q&A allows customers to ask and answer questions about the product such as "what is the fit like?" or "how long does it last?". All Q&A's are displayed on product pages, so not only does the feature help the visitor who asked the question, it can also helps other visitors who land on the product page and may have wondered the same thing. The diagram below shows how Yotpo's Community Q&A feature works –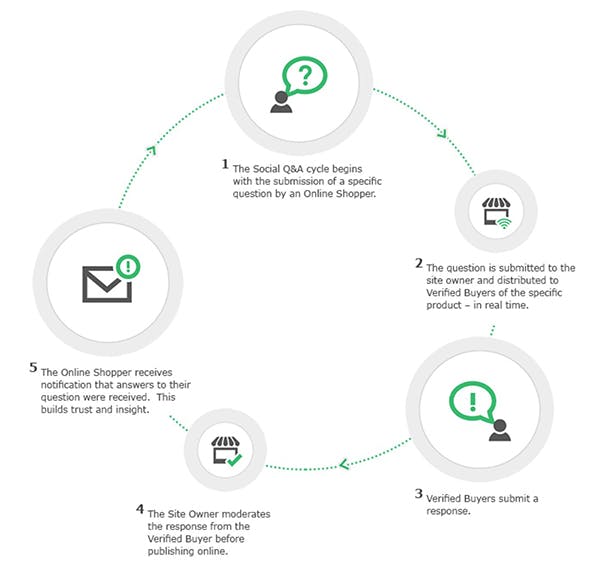 Image source: Yotpo
Community Q&A helps drive previous customers and potential customers back to your site. As there aren't many online retailers taking advantage of this tool, it can also give your website a competitive edge.
Offer incentives
One of the best ways to encourage UGC is to regularly offer some kind of reward. This could be anything from exciting prizes in a UGC competition to a small discount for submitting a product review. Even a small gesture of appreciation such as sharing their social media content can help incentivise your followers.
Goslings are currently running a competition with the amazing prize of a trip to Bermuda! Entrants are asked to submit a photo or video showing how easy it is to make a Dark n' Stormy cocktail with their products. Using the #mydarknstormycontest hashtag, fans can post their entry on Twitter or Instagram, or via the website's entry page, so Goslings are gaining UGC on a range of platforms.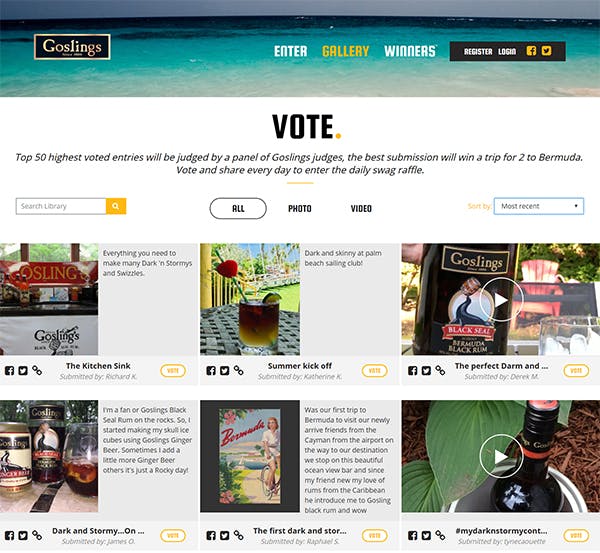 Image source: Goslings
If you're running a competition on social media, make sure you follow the rules set by the social platform. Failure to comply with the T&Cs can result in the competition being removed by the platform. You'll also need to make a detailed plan that covers the platform(s) that the competition will be run on, the deadline, judging criteria, prize(s) and how the competition will be promoted.
Key takeaways
Remember that social media engagement is a two-way street! Engage with your audience by asking questions, sharing the best posts and replying to their comments
Create a hashtag that your fans can use, make sure it's promoted well and track the hashtag using a social media tool such as Hootsuite
Product reviews are a great way to increase conversions. Set up automated product review emails to help encourage this valuable form of UGC
Community Q&A can also help generate more sales by bringing potential customers and previous customers back to the site
People are much more likely to post about your brand or products if there is some form of incentive offered such as a competition prize
Hopefully you now have some new ideas to encourage more UGC. Look out for our next blog post which will cover various ways to leverage UGC.
Useful Links