If you write a blog, you'll know how much work is involved and how time-consuming it can be to create just one post. Luckily there are plenty of online blogging tools out there to make the process more efficient. Not only that, but they can help drive traffic to your blog and improve the quality of your posts so readers stay engaged.  
To save you time figuring out which tools are worth using and which aren't, we've rounded up our top 5 best blogging tools. What's better – all of the features mentioned below are available for free!
Buzzsumo
When researching for blog ideas, Buzzsumo can help you identify which content is working well and what content to cover for your chosen topic. Simply type your topic into the search box, and you'll find a list of the most shared articles related to the topic.
These articles are ranked in order of the total number of shares it's received. You'll also see a breakdown of the number of shares via Facebook, Twitter, LinkedIn, Pinterest and unique domains. As well as this, they're assigned an evergreen score which indicates whether the article is still being shared long after it was published. This is really useful as your blog should include a range of articles; some based on what's trending in your industry and others that people continue to search for time and time again.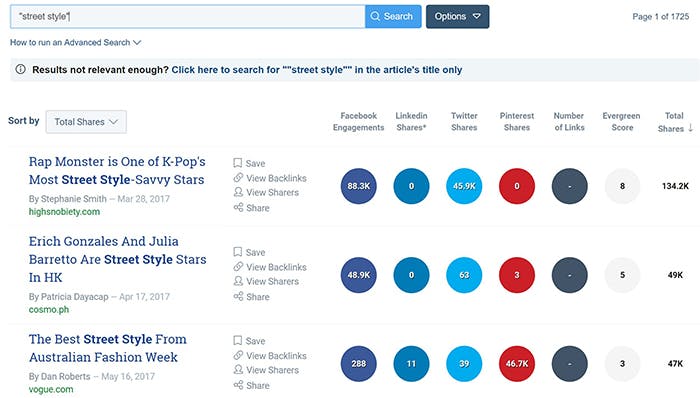 You can narrow down your search by using filters such as content type, word count and domains to include/exclude. Keep in mind that unless you have a subscription, you'll be limited to one search per day.
Moz Keyword Explorer
Finding the right keywords to include in your article is important as it can help your blog post rank highly in SERPS. Moz Keyword Explorer is a fantastic research tool that lets you find and prioritise the best keywords for your blog.
Firstly, select the country and language as this may default to the US. Then in the keyword search bar, type in the word or phrase you want to research. Moz will then generate a keyword overview containing useful metrics, keyword suggestions and a SERP analysis. You can click on the tabs to view the full reports.
At the top of the keyword overview, you'll see the following metrics generated by Moz:
Monthly volume: indicating the average number of times the phrase is searched for each month on Google
Difficulty score: estimates how difficult it would be for the average site to rank higher than the results on the 1st page of Google for that keyphrase
Organic CTR: estimates the percentage of clicks available to the traditional organic links on the search engine results page for that keyphrase
Priority score: aggregates all the above metrics into one simple score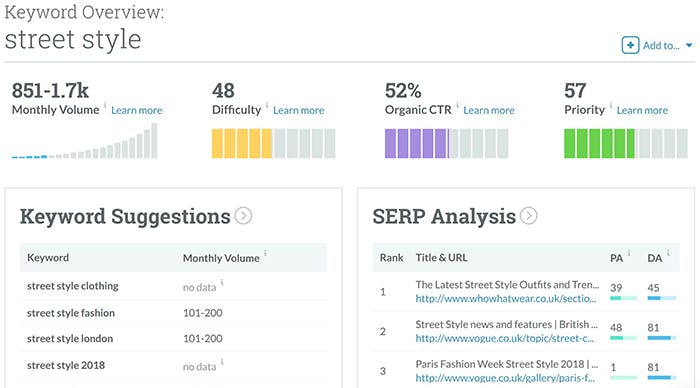 The SERP analysis displays the 10 organic search results that are displayed on page 1 of Google. Alongside each result, you'll see data including Moz's domain and page authority scores, the number of linking root domains to the page and the number of linking root domains to the website.
Another useful section is the keyword suggestions, which you might want to consider using. These can be sorted in order of highest monthly volume or relevancy. You can also filter them eg. keywords that are questions.
Consider using your chosen keywords in your blog title, metadata and within your content.
Canva
Strong imagery is a really important aspect of a blog post, helping illustrate your content and keeping your readers engaged. There are plenty of stock image sites out there, but sometimes it's better to create your own images. If you think this means that you need to be a Photoshop pro then think again! Canva makes it really easy for anyone to create beautiful blog headers, visuals to feature in your article and various social media posts to promote your blog.

One of the best things about Canva is that each template is sized specifically for its purpose, which is useful considering the many different image dimension requirements for each social media platform. Once you've selected the type of graphic you want, you can pick from a range of design templates with all sorts of backgrounds and fonts. Then you can add your text and edit it too – whether you want to change the font, text size or colour. You can also drag the text blocks to rearrange them. When you're happy with the graphic, simply download it as a PNG, JPEG or PDF (we'd recommend JPEG format for your blog posts to help ensure it loads quickly).
All this is available for free, however if you pay to subscribe, you can upload your own branded content including your brand's colour palette, logo and fonts. You'll also get access to 300,000 free images.
Grammarly
Nobody wants to read a blog filled with mistakes! Luckily there's a Google Chrome tool which can help you avoid that. Grammarly is able to instantly correct grammatical, spelling and punctuation errors. It works by scanning the text for common or complex mistakes and underlining any errors. When clicking on this, Grammarly's suggestion will pop up and you can check this then click on it to make the correction. It's like your own digital proof-reader!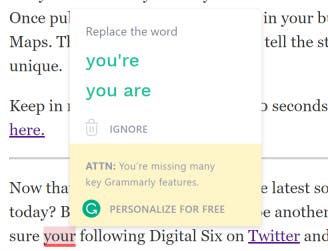 Yoast SEO
One of the best ways to drive traffic to your blog posts is through SEO. If your blog is built on WordPress then you're in luck, as the Yoast SEO is a great tool to help with this. The plugin allows you to add a meta title and meta description for your blog article. This can help attract more visitors from search engines such as Google and Bing, as well as some social media channels.

In addition to the metadata feature, Yoast SEO analyses the blog's readability for search engines and presents the information in an easily understood report. It takes into account things like the length of your sentences, the number of internal and outbound links and whether the images contain alt tags. Check this mini report to see what ways you can optimise your blog post.
Blogging Resources
https://www.canva.com/create-a-design